2012 Prom Shoe Trends. Trendy styles in 2012 prom shoes. When it comes to prom night everything must be perfect, and now that you have your dress, and your hairstyle picked out, it's time to start completing the look with shoes, handbags, and jewelry. First up will be the shoes. 2012 is the year of the sparkle, and heels this season are all about glitz and glam. For a little added sparkle find shoes to complete your look that contain studs, sequins, rhinestones, or glitter. You can even skip the jewelry if you shoes sparkle loud enough.
Another trend in  prom styles this season is the look of bows, add a bit of elegance yet playfulness to your prom look by adding shoes with small bow details. This trend can be worn at the sides of your ankle, the back of your heel, or on your front toe. Other top shoe trends for prom include the look of strong ankle details, platform heels, floral details, and colorblocking heels for a strong dose of color. Look below for a few selections to help you get started.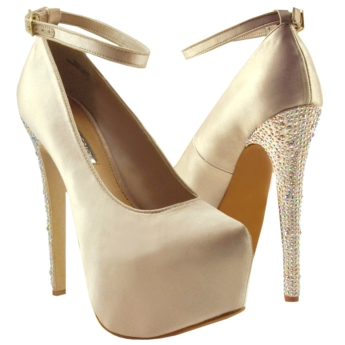 The following two tabs change content below.
thestylenewsnetwork
Fashion, Style, Life....... Beauty comes in all shapes, shades, and sizes. This blog hopes to showcase all facets of beauty from the inside out. Hair, make-up, fashion, advice and everything in-between. This best thing in life is having fun and making sure you look your best while doing so!
Latest posts by thestylenewsnetwork (see all)