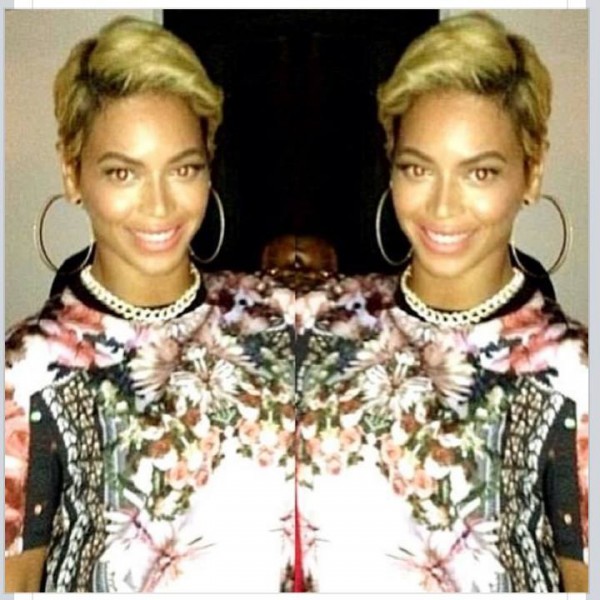 Beyonce Flaunts New Blonde Pixie Cut (Check Out Her New Short Haircut). The Queen B is letting go of her locks and long weave for a brand new fresh look, a short cropped pixie cut. I'll be honest and say that I never in a million years thought that Beyonce would be seen rocking a shorter cut, but hey you know what they say never say never…
The talented mega superstar singer took to instagram to show off her new look. Get more details on her new cut, and spot her new look after the drop.

Beyonce's long time stylist Kim Kimble tells People StyleWatch all about B's new cut
I got a little teary eyed! I've been working for her so long, she has this beautiful long hair and it's hard to grow hair out. I feel like it's my hair, I work so much with her. I feel a little emotional but excited for her too. Maybe I'll cut my hair off now. Short hair, don't care!
She had great, thick long hair, which she cut off because she's ready to make a statement. It's a great [one] to make: I'm beautiful, Hot, bold and I can do it all. She's the perfect model for that: A working woman, mom, superstar, businesswoman. She's powerful in herself.
It had to be her decision. This was a big step, and it's perfect timing…
Beyonce's colorist, Rita Hazen, tells US Weekly that Beyonce was tired of hiding behind her hair
I was shocked. I think she was just feeling empowered, like a strong woman, and she said she's been feeling it for a long time.
She didn't want to hide behind her hair in real life. I'm so happy because the extensions give women the wrong expectation of what their hair should look like — it's great for onstage, but everyday women shouldn't have or want to have five pounds of hair on their head, This hair is more natural, more realistic.
Whatever her reason's are for dropping her locks, we think Beyonce looks fab with her new cut, what do you think? Tell us your thoughts after the cut…
Related articles