New Hair Product Alert – Dark and Lovely 6 Week Anti-Reversion Cream Serum ( For Relaxed Hair ). It seems as if natural hair is getting all the attention these days, but it looks like Dark and Lovely is still paying attention to relaxed girls needs. After all they want their hair to look nice too. Check out the latest product from Dark and Lovely, a new 6 Week Anti-Reversion Cream Serum ( For Relaxed Hair ). Peep more info after the drop.
Their latest product is for any relaxed girl who struggles with the dreaded in between stage of new growth and previously relaxed hair. The product is designed to smooth down your new growth to make styling easier between touch-ups.
Introducing our first styling product developed specifically for relaxed hair, allowing you to preserve your straight, smooth hair up to six weeks in-between relaxing. It is designed to help control frizz, lock in shine while keeping hair soft, full of body and manageable from one shampoo to the next. Also suitable for use on color treated hair.
The 6 Week Anti-Reversion Cream Serum is the most innovative styling product and must-have for all relaxer consumers," stated Mezei Jefferson, SoftSheen-Carson Director of Education. "Its exclusive Humidity Block Technology allows consumers to achieve the same smoothness and shine as if hair was just relaxed."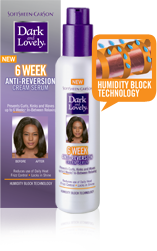 I'll admit I am a bit curious about this hair product, and if you're interested you can pick up a free sample from the website. I will say that if you do have relaxed hair you should stretch your relaxers for more than 6 weeks, but this an interesting tool to use for in between, no matter how long you wait between relaxers. The brand is also saying that natural girls can use this product to help tame frizz as well. For more info check out the video below.
Related articles